Search Engine Optimisation for Websites
SEO services ensure your website ranks well in Google searches.
These days if someone is looking for goods or a service, then the starting point for almost all of them will be a search on Google.
If your business doesn't rank on the first page of Google, or Google Maps searches, for the products or services that you offer, then for most potential customers you don't exist.
Over 93% of all web searches done in New Zealand use Google.

Roughly 80% of people use Google maps on their mobile

Around 90% of people don't look past the first page of search results.
Getting your business on the first page of Google search results is essential to success.
Take a look at the Search Engine Optimisation services we offer.
Digital Audit
Not sure where your digital marketing is at? Do you feel like your online presence has got away from you, you are missing things that need attention, or you are wasting time and money focussing on the wrong areas online?
We can do a full digital marketing audit of your online business footprint, look at how your business is placed in your sector, and even check how your main competitors are doing in comparison.
Keyword Analysis
How do you know what keywords your website needs to target for your customers to find you when searching online?
We analyse your current website for ranking keywords, check what local, NZ wide or international keywords people are searching for in your sector, and look at the keywords that are working best for your top online competitors. From this we build you a targeted keyword list and keyword planner to use when you SEO your website.
Analytics
Digital marketing, and one of its main differences from traditional marketing, is the ability to collect data. From simple metrics such as followers and likes on your social media accounts, and how many people view your website, through to detailed website heatmaps and A/B testing, you have all the information you need.
The issue for many business operators and marketing people is knowing what's important. Synthesis Marketing can help make sense of it all.
Cutting through the jargon
How Google decides where your business ranks in searches is complicated, and for many people it feels a bit like black magic. Here at Synthesis, we pride ourselves in cutting through the jargon and explaining everything you need to know in language you can understand.
New Zealand SEO for New Zealand businesses
As a local business, you need an SEO strategy that works for the area that you operate in and where your customers come from. As a local business based in Wellington, we understand that your website and your online presence need to be tuned to work well in New Zealand. All the SEO analysis we do, and the solutions we build, are focussed on New Zealand, and the region of New Zealand where you operate.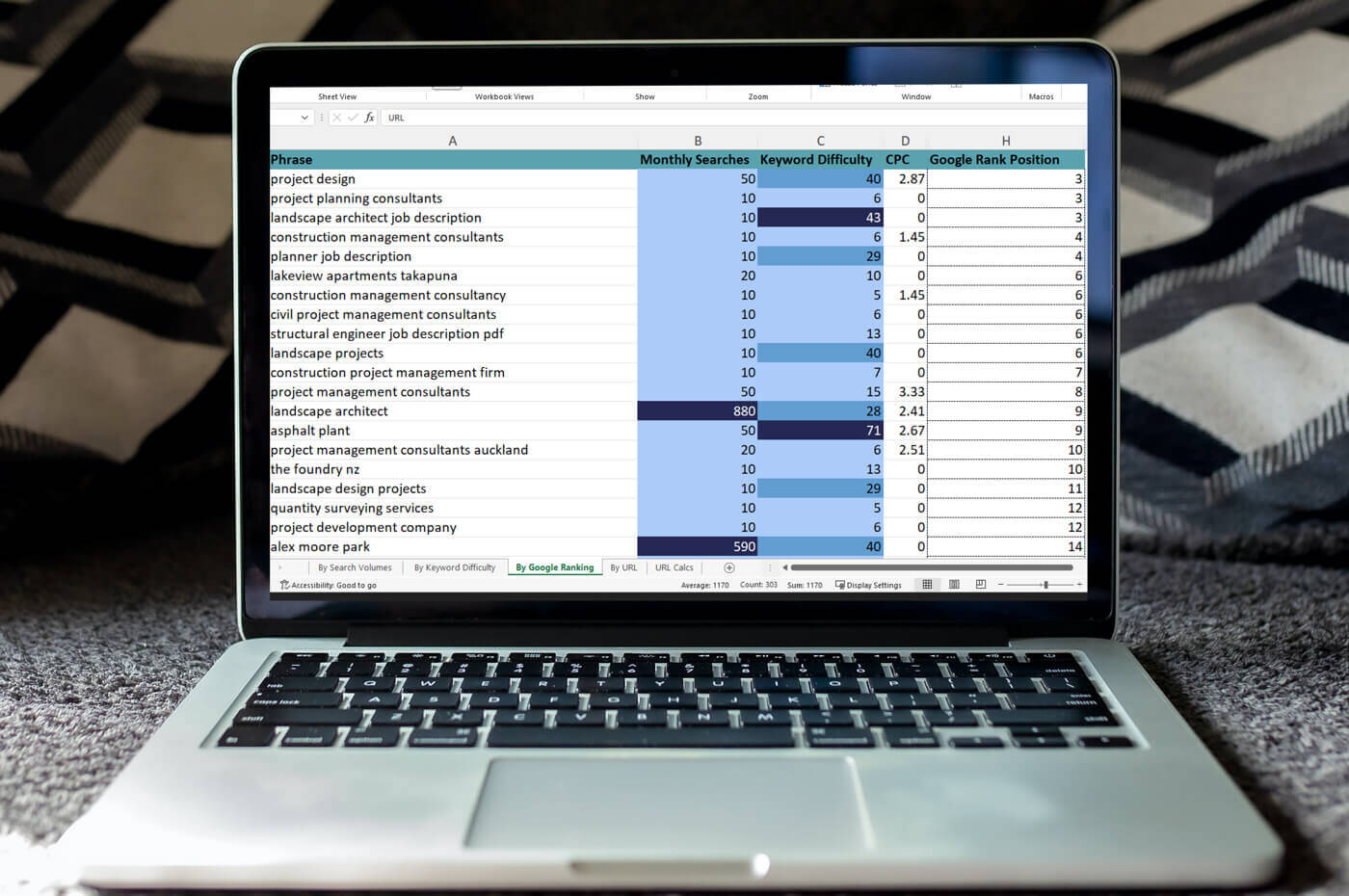 Keywords are crucial
Your website needs to rank well for the search terms, or keywords that your customers use when they are searching online for the products or services that you offer. It's not rocket science, but there is definitely a bit of an art to writing content that ticks the boxes for both SEO and your customers and clients.
You need to make sure that the language you use in the content on your website lines up with what your customers are searching for.
You need the content to connect with your customers and tell them everything they need and want to know about your product or service.
Your content needs to work for Google when they visit your website to work out what it's about.
Synthesis Marketing is here to help. We do the research that gives you a target keyword list, so you know exactly what people are searching for in your market sector. Then we can write your website content for you, or we can show you how to write it yourself, including samples of content that will work to boost your SEO.
In SEO the words you can't see matter
Once you have the content on your website optimised for Google, then you need to turn your attention to the parts of your site that your customers don't see, but Google does. There are multiple areas in your website where including keywords helps to build your rankings in search engine results.
Page URL's and slugs, SEO titles, image filenames, alt text, meta descriptions, they all need to contain keywords. Don't worry if this makes your head spin, Synthesis Marketing has you covered. We can identify the areas where the back end of your website is letting you down in the SEO stakes. Then it's up to you whether we fix the SEO errors for you or give you the knowledge and understanding to do it yourself on an ongoing basis.
How authoritative is your website? The importance of Domain Authority
Part of the puzzle of improving the Search Engine Optimisation of your website is authority. Authority is how important Google thinks your website, and the pages that make it up, are. The higher your authority, the better your site ranks for the keywords it contains.
Building authority is about building backlinks. A backlink is a link on another website that points to your website. As you'd expect, backlinks from sites with higher authority are more valuable to your website. Synthesis can help design a strategy to help you build your backlinks and build the authority of your website.
Better business through smarter marketing